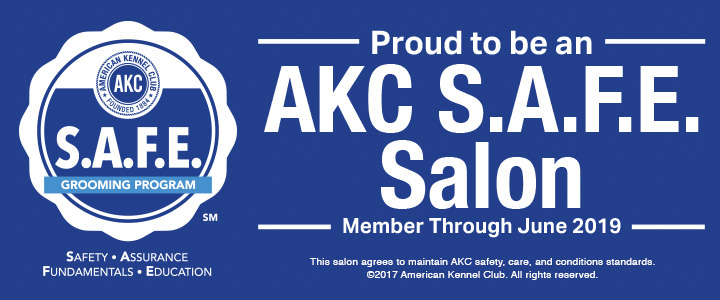 Grooming by Tanya is proud to be certified in the following programs.
Grooming by Tanya has been certified by the American Kennel Club (AKC) as an AKC Safety-Certified Salon. This prestigious award is given only to salons who have worked hard on ensuring the high safety standards established by the AKC.
AKC Groomer/Salon Safety Oath
This salon agrees to the following AKC Safety Requirements:
Pets must be handled and treated humanely; the pet's safety is the top priority.
Pets cannot be left unattended on grooming tables or in tubs.
Equipment and surfaces that come in contact with the pet must be cleaned prior to use.
Pets not being groomed must be secured in a crate with a door and a latch, or in a secure designated play area (with owner's consent).
Crates and cages must allow the pet to stand and do a full circle.
Cage dryers, if used with owner's consent, must have working temperature gauges and timers.
Cage drying will only be done with equipment manufactured specifically for cage drying.
The following records must be kept on each pet: identification, medical and behavior issues, allergies, intake condition and emergency contact.
Floors must be free of hair and water to ensure that a safe electrical environment is maintained at all times.
The salon must have two barriers between the grooming area and the salon exterior.
A first aid kit and fire extinguisher are to be in plain view at all times.
One AKC Safety-Certified Groomer must be present during grooming hours.
All local laws, ordinances, and building codes must be abided by at all times.
Grooming Certificates must be displayed at all times (NDGAA, IPG, ISCC, AKC).
An AKC-approved disaster plan must be in place.
This salon agrees to be inspected by the AKC at any time.
IP

G
 is an International Association created to educate, certify and accredit Professional Pet Groomers. Groomers  with active membership, in good standing and who complete annual continuing education and follow the "IPG Code of Ethics," maintain their certifications and educational endorsements
.
The Safety of all pets entrusted into our care
Educating pet owners and groomers on safe grooming and handling techniques
Increasing the recognition of the grooming profession
Acknowledging the superior skill-set of 'our' groomers
IPG is a member of the Professional Pet Groomers and Stylists Alliance (PPGSA) and has worked with this alliance to develop and recommend Standards for Safety in all Grooming Facilities.
Grooming by Tanya is pleased to announce that  Tanya Ellison, has earned her Certified Pet Aesthetician certificate. Only a handful of groomers in the country can boast this particular pet skin and hair therapy certification. After months of study and application, Tanya can successfully treat skin conditions such as allergies, bacterial infections, fungal infections, parasites and much more using an eco-friendly, pet safe products from Iv San Bernard Fine Italian Pet Products.
What is a Certified Pet Aesthetician?
What makes a Certified Pet Aesthetician different from your average groomer? A Certified Pet Aesthetican has gone through stringent training including learning The Science of Skin as well as applications in a medical environment. Certified Pet Aesthetican studies include not only skin and hair health but also how to treat skin conditions, medical & dermatological terminology, proper records keeping and creating working relationships with veterinarians.
Following this training the students are required to finish their certification at Animal Health Services Surgical and Diagnostic Center in Cave Creek, AZ working in the therapeutic spa as well as hands on training with the veterinarians and Certified Veterinary Technicians. After passing an in-depth written test the groomer is presented with their official certificate recognizing them as a Certified Pet Aesthetician.
Certified Pet Aesthetician services include:
ALLERGY TREATMENTS
ITCHING AND SCRATCHING RELIEF
HAIR RE-GROWTH
TREAT FUNGAL ISSUES
SAFE AND EFFECTIVE PARASITE TREATMENT
HOT SPOT TREATMENTS
TREAT BACTERIAL INFECTIONS
OZONE THERAPIES
SHEDDING MANAGEMENT
AND MUCH MORE

Safe Pet Cosmetics is a program born out of the passion and experience of a group of cosmetologists and veterinarians who shared their skills in order to increase the safety of cosmetics for animals and promote a culture of protection and respect towards them.
The long experience in the field of certification and validation of processes and cosmetics for humans was complemented by the study of the specific needs of the skin and the fur of some of the most loved animals.
Grooming By Tanya uses Iv San Bernard products that are in compliance and meet the directives of  https://www.safepetcosmetics.eu/en/.