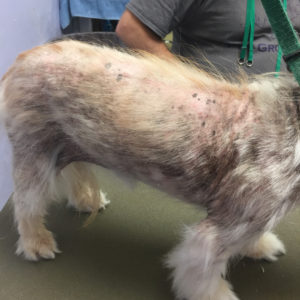 Certified Pet Aesthetician, Tanya Ellison, has been trained to help pets with many skin problems like, hair loss, bacterial infections, fungal infections, allergies, itching, parasites and much more. Read more about the certification HERE.
NOW FEATURING Hydro-Massage Ozone Therapies.
Some pet therapies may be enhanced with Hydro Massage Ozone Advanced Therapies. If your pet is a candidate, Tanya, we will let you know about this progressive service.
Understanding that Hydro-massage & Skin Ozone Therapies are not a drug or a magic bullet, it is recommended to always treat patients under the direct supervision of a licensed veterinarian. Hydro-massage and pet skin ozone therapies are therapeutic tools which can aid the groomer in regaining the health of the skin. In the end, the immune system has to do the work of healing the body and skin ozone therapy is best performed along with other treatment modalities in order to achieve the best results.
The number and frequency of treatments will vary with the condition being treated. A treatment plan is determined on an individual basis depending on the patient's specific skin issues. (see video below)
Conditions Ozone Can Treat
FUNGUS
Dermatophytosis
Dermatomycosis
malassezia dermatitis
Candidiasis
ALLERGIES
dermatitis flea-allergy
dermatitis food-allergy
atopic dermatitis
SEBORRHEA
moist seborrhea
dry seborrhea
LEISHMANIASIS
for skin and coat nourishment
a force & barrier against
external agents.
ALOPECIA
trauma
surgical shavings
follicular atrophy
adenitis of sebaceous glands
follicular dystrophy
alopecia of color dilution
skin hydration
ITCHING
to combat proliferation of
bacteria and malassezia
that cause itching.
WOUNDS
prevent or treat infection
encourage healing
MISC APPLICATIONS
soothe arthritic joints
post-surgical orthopedic joint
therapies –following
healed incision.